Travel to New Berlin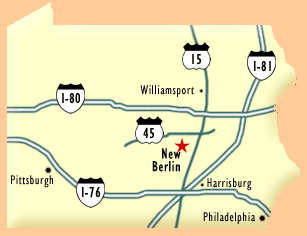 Though New Berlin is in a quiet part of central Pennsylvania, away from the hustle and bustle, getting here is easy. New Berlin is just 14 miles off Interstate 80 (exit 210A), nine miles west of US Route 15 as it runs between Lewisburg and Selinsgrove. New Berlin is at the juncture of State Routes 204 and 304.
Directions to New Berlin from Interstate 80 via Lewisburg
Exit onto Route 15 South (exit 210A) towards Lewisburg.
Go West on Rt. 45 (West Market Street) out of Lewisburg.
After four miles, turn left and head south on Dreisbach Church Road. (At this turnoff, there is a sign with a cross for Dreisbach Church, as well as a sign for New Berlin.)
Proceed 5 miles through one stop sign, over a mountain and into New Berlin.
Directions to New Berlin from Selinsgrove (traveling Rt. 15 North)
Take the first Selinsgrove exit (Rt. 35) on Rt. 15 North. At the first traffic light, turn right onto
Selinsgrove's Market Street.
Proceed through downtown Selinsgrove until you come to the junction of Rt. 522 (Ford Motors will
be on your right).
At the light, turn left onto Rt. 522 and continue for about 1 mile.
At the traffic light, turn right onto Rt. 204 North.
Proceed 9 miles, crossing the bridge over Penn's Creek and entering New Berlin.
Directions to New Berlin from the west on Route 45.
Traveling into Mifflinburg on Route 45, turn right at the second traffic light onto Route 304 and Fifth Street.
Proceed on Route 304 five miles into New Berlin.
Directions to New Berlin via Route 104 and Middleburg.
Traveling north of Harrisburg, exit US Route 11&15 at Route 104, about 4 miles north of Liverpool.
Follow Route 104 twelve miles into and through Middleburg.
As you depart Middleburg, opposite Krautheim Motors, you will veer to the right at the fork in the road onto the New Berlin Highway.
Continue seven miles to New Berlin.
Approximate mileage from New Berlin, PA to major U.S. Cities:

In Pennsylvania
Out of State Cities
Philadelphia
-
160 miles
Baltimore, MD
-
130 miles
Pittsburgh
-
220 miles
New York City
-
210 miles
Harrisburg, PA
-
55 miles
Washington, D.C.
-
170 miles
Lancaster, PA
-
95 miles
Rochester, NY
-
212 miles
Gettysburg, PA
-
99 miles
Youngstown, OH
-
240 miles
State College, PA
-
50 miles
Wilkes-Barre, PA
-
78 miles